You might be asking yourself, "Didn't Preston Smith breakout last year as a rookie, and isn't it obvious that he's going to be at least an above average player for the Redskins?"  That's a fair point, because it's not hard to tell that a guy who led all 2015 NFL rookies in sacks (8 regular season, 1 playoffs) and that was a force in this year's preseason has an excellent shot at having a good 2016 campaign and career.
This isn't about whether or not Smith is going to be a good player, though.  It's about whether or not he is going to become a great player, a pro bowl caliber or an elite defender.
I wanted to know more about what was in store for Smith; specifically, I wanted to discover just how good of a chance he had to breakout and transform into a truly dominant player.  In order to do that, I decided to look back at his pre-draft profile and his rookie season in the NFL to see what his accomplishments could tell us about the prospects of that actually happening.  I then charted all 57 of his 2016 preseason snaps to see if the numbers of the past matched the hype of the present.
Here's what I found.
Pre-Draft Profile
The fact is, we probably already should've known that Preston Smith was going to be a great player before the Redskins even drafted him with the 38th overall pick in the 2015 NFL draft.  NFL executives not named Scot McCloughan wish they knew too; if they had, then Smith would have been selected much higher than 38th.  Well, at least the media sure seems to agree with that assumption (exhibits A, B and C).  Let me tell you why we all should've known.
COLLEGE
Smith led an 8-5 Mississippi State team in sacks as a 20-year old sophomore.
He was named the most outstanding defensive player of the Liberty Bowl at the end of his junior season, and carried that success over to the start of his senior year when he won SEC defensive linemen of the week in the first three games of the season.  Smith was the first linemen to ever win the award three straight weeks and the first Mississippi State player to win it three times in a single year since Fletcher Cox.
He was named first-team All SEC as a senior by the coaches.  The last decade of All SEC teams is littered with current and future NFL star edge defenders including: Justin Houston, Mark Anderson, Charles Johnson, Greg Hardy, Carlos Dunlap, Malik Jackson, Dante Fowler, Markus Golden, Melvin Ingram, Kony Ealy, Jadeveon Clowney and Myles Garrett.
Smith was selected to the Senior Bowl and recorded a sack, two hurries and a game-high four defensive stops for the South team.  He was Pro Football Focus' seconded highest graded defender (4.1) in the all-star contest, just 0.1 behind Carl Davis.  PFF's two highest graded defenders in the 2014 Senior Bowl were Aaron Donald (6.8) and Chris Boreland (2.9).
COMBINE
The former Bulldog showed out well at the NFL combine as well.  Mockdraftable has 11 measurements listed for Smith, and he comes out above the 50th percentile (i.e. above average) in eight, nine and ten of the categories as an outside linebacker, a defensive tackle and a defensive end respectively.  He hit the 90th percentile or higher in 12 of a possible 33 cases across the 11 categories and three positions.
The site lists Justin Houston (OLB), Mario Edwards (DT) and Joey Bosa (DE) as one of his top two comps at each of the three aforementioned positions.  Also, Robert Quinn is his fourth best overall comp.
Smith's pSPARQ score of 133 puts him in the 84th percentile among edge defenders in terms of overall athleticism.  That was the tenth best score at the position in his class and the ninth best among drafted edge players in the last two drafts combined.
Justis Mosqueda developed a formula or threshold based system that focuses on athleticism to filter out college edge defender prospects.  If the player fails to pass through the filter then they have a much lower chance of becoming a great NFL defender, those that do pass through are another story.  They are known as "Force Players".  Just 25% of second-round edge defenders pass through the filter, and those that do have an 85% higher approximate value number than those that don't.  Preston Smith is a Force Player.
Here is an explanation of Football Outsiders' sackSEER projections: "The SackSEER projections are based on a statistical analysis of the factors that best predict the pass rushing success of edge rushers. SackSEER rating provides a historical percentile rating on the player's prospects for success as compared to the other prospects in SackSEER's database, irrespective of projected draft position.  For instance, SackSEER currently has 369 edge rushers in its database, so a prospect in this year's draft who is stronger than 240 of those prospects on the historical trends identified by SackSEER would have a SackSEER rating of 65.0 percent (240/369)."  Preston Smith was in the 75th percentile in the 2015 edition of this study.  That would put him just inside of the top 100 (of 369) historically.
Rookie Season
Now it's time to shift our focus to something you should be more familiar with and that will be much more telling than anything that Smith did before he ever stepped foot onto an NFL field: his rookie year production.
We already know that Smith accomplished some amazing things as a first-year player in the league, but what exactly do those accomplishments say about the likelihood that he turns into a true star.  To figure that out I ran some PFR screeners to see how often rookie players that did the same things turned their achievements as NFL neophytes into long and highly prosperous careers.
MAPPING OUT THE METHOD

How do you determine if an NFL player had a "great" career or not?  This is not an exact science, so the cutoff I chose was admittedly somewhat random.  If a player had a career approximate value of over 50 or more or was on pace to hit that number then I considered their career to be well above-average or great.  It is an arbitrary cutoff, but it's also not without merit.
For example, here is a list of all the Redskins that accrued an AV of 50 or more since 2000:  Chris Samuels, London Fletcher, Santana Moss, Jon Jansen, Trent Williams, Champ Bailey and Clinton Portis.  LaVar Arrington just missed the cut with an AV of 49.  That pretty much covers all of the greats in that period of time.
Here's a list of all the non-quarterbacks in the NFL who hit that mark over the last four years: J.J. Watt, Richard Sherman, Luke Kuechly, Antonio Brow, Josh Sitton, Andrew Whitworth, Demaryius Thomas, Von Miller, Ndamukong Suh, Geno Atkins, Earl Thomas and Muhammed Wilkerson.
It may not be perfect, but I think this method will more than suffice.  When we reference hit rate (it's really something more of a "big hit rate"), the career 50 AV threshold is what we will be referring to.
PRESTON SMITH'S SACK KILL LIST
Before we get started I need to briefly preface one aspect of Smith's production last year.  These screeners were based mostly on sacks, so before I go over them I want to make something clear: Preston Smith did not pick up his nine total rookie sacks by beating up on the dregs of the NFL pass-protecting community; for the most part, he earned them by straight-up outplaying above-average to elite competition.
I went back and watched the tape of every one of his sacks to find the list of his victims.  Here they are, presented in chronological order: Dallas Thomas, Lane Johnson, Ed Dickson & Jonathan Stewart (double team), Cordy Glenn, Jason Peters, Jason Peters, Dennis Kelly, Tyron Smith and J.C. Tretter.
PRESTON SMITH: THE NEW CROWN PRINCE OF THE QUARTERBACK SACK
As we said, Smith led all NFL rookies in sacks last season with eight of them.  That got me thinking about how well other rookie sack leaders had done in their careers, so I looked at every one of them since 1982 when the league started officially tracking sacks.  I also looked at the players that ranked second, because there were a handful of times when they would record a high number of sacks to only be outdone by another NFL newcomer with an extremely high total (e.g. Von Miller's 11.5 sacks in 2011 ranked second behind Aldon's Smith's 14).
Just look at some of those names (hits are listed in bold).  That's some very impressive company.
Here's how the average career of those player's looked in terms of sacks and approximate value.
| | | | |
| --- | --- | --- | --- |
| AVERAGES | Yr1 Sacks | Car Sacks | Car AV |
| Most Rookie Sacks | 9.4 | 62.1 | 65.2 |
| 2nd Most Rookie Sacks | 7.7 | 49.6 | 56.3 |
| Combined | 8.6 | 56.5 | 61.2 |
That is very promising, to say the least.  But let me put it to you in terms of hit rate.  Sixty-three percent of rookie sack leaders went on to have a career AV of 50 or higher or are on pace to do so, and the rate for second place finishers is 53%.  Sacks were tracked for 33 years before the 2015 season, and in 30 of those 33 seasons (91% of those seasons) at least one of either the first or second place finishers went on to be a "big" hit in the NFL (>/= 50AV).
WILL SMITH'S END-OF-SEASON DOMINANCE CARRY OVER TO 2016 AND BEYOND?

Most of Smith's production came on the strength of his torrid end of season pace when he racked up five sacks in the final three games of the regular season.  He is the only rookie in recorded NFL history to accomplish that feat.  However, as you will see, even if he had done that in the season's last five games it still would have signaled a very high probability of him going on to have an excellent career as a whole.
Below is the list of players to hit different sack totals across different end-of-season time frames.  Hits are listed in bold, and the hit rates for each category are listed at the top of each column.  Smith is not included in the hit rate calculations.  We are looking at game and not week numbers, and games 17 to 20 represent playoff games,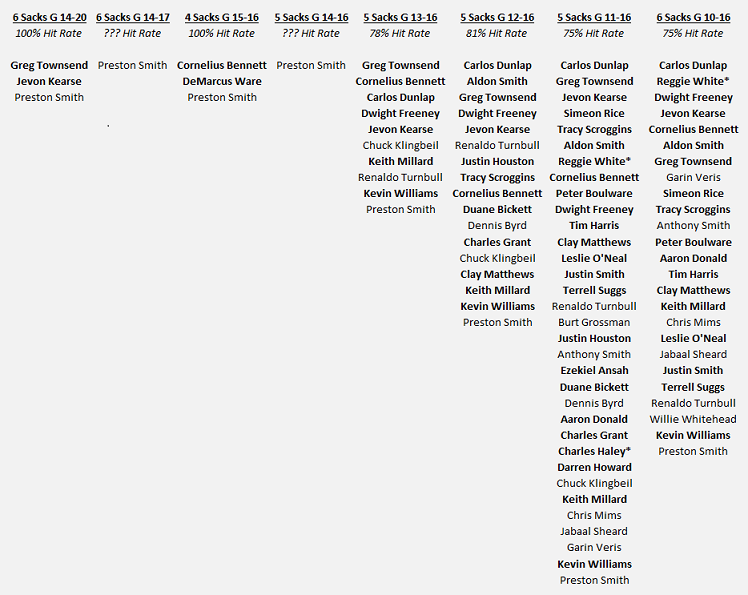 The lowest hit rate for any of these screeners is 75%, and the average rate is 85%.  Granted, a lot of the same guys are showing up in each of them, but this is still quite amazing.  Here are a few more Smith stats and hit rates for them.
Only 37 other rookies have ever notched three or more sacks in a single game in recorded NFL history.  Just under 60% of them were hits.
He is one of just four rookies to ever record eight sacks, four passes defended and three forced fumbles.  The other three are Julius Peppers, Von Miller and Tamba Hali.  The hit rate is still 100% even when you drop it to six sacks and three more players are added (including Ryan Kerrigan).
The only other rookie front-seven player to record a safety in a playoff game was Jevon Kearse.
FREAK LIGHT?  JUST SAYING.
You might've noticed that Kearse's name has shown up a fair number of times so far.  And, while I'm not literally saying that Preston Smith is the next Jevon Kearse, they do share a fair amount of similarities.
| | | | | | | |
| --- | --- | --- | --- | --- | --- | --- |
| Jevon Kearse | Height | Weight | Wing | Hands | Coll Conf | Coll Sacks |
| | 6047 | 262 | 82.38 | EPIC | SEC | 16.5 |
| | 40 | 10 | Vertical | Broad | Shuttle | 1st Game Age |
| | 4.74 | 1.63 | 34 | 121 | 4.28 | 23.02 |
| | | | | | | |
| Preston Smith | Height | Weight | Wing | Hands | Coll Conf | Coll Sacks |
| | 6047 | 271 | 86.00 | 10.625 | SEC | 16 |
| | 40 | 10 | Vertical | Broad | Shuttle | 1st Game Age |
| | 4.58 | 1.61 | 37 | 122 | 4.24 | 22.80 |
Let your freak flag fly, Preston!
I was unable to find an exact measurement on Kearse's hand size, but from what I've seen and heard they may have been some of the biggest mitts in NFL history.
Preston Smith's hands are no joke, either.  Of the 15 positions listed on Mockdraftable.com, Smith's hands are in the 90th percentile or higher in 13 of them.  The average across all positions is the 95th percentile.
PUMPING UP THE PLAYING TIME FOR PRESTON

The scary thing (at least for opposing NFL offenses) is that Preston Smith's first-year production came without much playing time.
He started a grand total of zero games last season, while first and second-place finishers in rookie sacks have averaged 8.8 and 7.7 starts respectively (combined average of 8.3 starts).
Smith also only played 518 snaps and rushed the QB 306 times in 2015.  Since 2007 (when PFF started tracking snaps), first place finishers have averaged 639 snaps and 356 rushes, and the runners-up come in with clips of 599 and 312 (615 and 329 combined).  That means Smith played somewhere between an average of 16 and 23% less snaps and rushed between 2 and 16% less than his peers in these groups did.
And, it was no coincidence that Smith's sack output shot up at the end of the season the way that it did.  Check out the averages in the table below.
| | | | | |
| --- | --- | --- | --- | --- |
| Averages | Snaps/G | % Snap | Sacks | 16 G Pace |
| Games 1-8 | 24.6 | 37.9% | 0.3 | 4.0 |
| Games 9-17 | 41.2 | 60.3% | 0.8 | 12.4 |
| Games 13-17 | 48.4 | 68.6% | 1.2 | 19.2 |
Junior Galette is on the shelf again and we have another year of proof that Trent Murphy is not solid starting material.  It's clear that Smith's playing time is going to skyrocket; and in turn, so too should his sack numbers.  Just imagine what he could do if he matched Ryan Kerrigan's averages of 976 snaps and a 93% snap percentage from over the last four years.
2016 Preseason
We've looked at Preston Smith's career dating all the way back to his sophomore year in college; now it's time to jump to the present and look at the start of his sophomore season in the NFL.  Smith popped off the screen this past August, but do the numbers back up what we saw?  I charted every one of his 57 preseason snaps to find out.
TOTAL DEFENSE
When Preston Smith was on the field the Redskins' defense was dominant.  They allowed 2.4 yards per play with penalties included and stayed under three yards per play when infractions were excluded.  The best average by a team in the last five years was 4.4 yards by the Super Bowl champion 2015 Denver Broncos.
Washington's defense also only allowed 10 first downs on Smith's 57 snaps.  The typical NFL defense is usually on the field for closer to 70 plays (20% more).  The Super Bowl winning and historic 2000 Baltimore Ravens defense allowed 13.5 first downs a game, the second best mark since 2000.  Even if you increase the 10 snaps allowed by the Redskins this preseason by 20%, it still would only be 12 first downs allowed per game.
That same Ravens defense allowed just 10.3 points per game, which is the best average since 2000.  The Redskins allowed 9 points (3 field goals) when Smith was on the field this preseason.  Up that by 20% and you only jump to 10.8 per game allowed.
Now, I'm not saying that the Redskins will have a historically great defense in 2016, but I am telling you that we should take notice of the impact that Preston Smith can have on a game.
PRESTON FOOTBALL FOCUS

Here are Smith's preseason numbers courtesy of Pro Football Focus.
He earned a positive grade in all three games, and PFF also informed me that Smith was in the top 20 among OLBs this preseason.
We need to consider two things, though.  First, Smith was downgraded almost an entire rating point because of one offsides penalty.  Where would he rank among OLB if penalties were not included?  Secondly, and most importantly, these grades are cumulative and thus bench or recently released players probably had a greater opportunity to build up their grade than Smith did because they got to play more.
ONE MAN WRECKING CREW
I decided to compare Smith's preseason pressure and run stop percentage numbers to those of some of the league's best rushers from the 2015 season.  I actually charted Smith with one more pressure than PFF did, so we'll look at both numbers in the table.
| | | |
| --- | --- | --- |
| Player | Stop % | Press % |
| Pernell McPhee | 7.7% | 21.4% |
| HH Preston Smith 16 PS | 12.5% | 20.8% |
| Justin Houston | 8.4% | 19.5% |
| DeMarcus Ware | 3.3% | 19.4% |
| Von Miller | 5.4% | 18.3% |
| Ezekiel Ansah | 6.2% | 17.1% |
| PFF Preston Smith 16 PS | 12.5% | 16.7% |
| Khalil Mack | 10.6% | 15.4% |
| J.J Watt | 10.5% | 15.0% |
| Ryan Kerrigan | 6.2% | 11.6% |
Smith's run stop percentage from his three preseason games this year is better than what anyone in the group had in the 2015 regular season.  According to my charting, he also had the second best pressure rate.  Even if I'm wrong about the additional pressure and PFF is correct, then he would still come in sixth ahead of Khalil Mack, J.J. Watt and Ryan Kerrigan.
Now, again, I'm not necessarily trying to tell you that I think he is or will be better than these other players.  If anything, I'm just telling you that what you saw in August was no mirage, despite how hot it may have felt outside in the D.C. area at times.
Conclusion
Preston Smith had a fantastic pre-draft profile that was initially underestimated by NFL personnel men, the media and fans alike.  He had what I consider to be at least a border-line historic rookie season, and he did that without the help of ample playing time.  And, finally, he truly did play at a superior level this past preseason.
Numbers don't lie.  What they are telling you today is that Preston Smith has an excellent chance to breakout to another level and to become an elite NFL player.  I'm not guaranteeing that it will happen or saying exactly when it will if it does.  I'm just simply acting as a messenger of history and statistics.  However, if you are a believer in those things like I am and you're a fan of the Redskins, then what you've read here should excite you.  A lot.
If you're still sleeping on Preston Smith then this should wake you up.  You're not dreaming anymore.  The vision that you had of an elite pass rusher being on the Washington Redskins' roster may not actually be an illusion of your imagination. The odds are that it is the new reality.