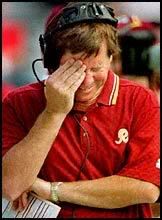 Who is this Jason Garrett guy and why is he standing next to me
The Washington Post reports that Norval Turner is now the front-runner for the head coaching job in Dallas.  This ought to be fun.  Norval is an offensive guy and was never really given to defensive strategy or tactics.  I mean c'mon, Ron Lynn was his defensive coordinator in Washington.  Ron may have done wonders in San Diego and was ok in Cincinnati, but as one of Norval's first hires, Ron wound up being a complete disappointment in three season with the Redskins.  In 1994, the first year of the Norval regime, the Redskins were last in points allowed and next to last in yards allowed.  In 1995, the team improved but were still in the bottom half in both of those stats.  In 1996, the Redskins defense, gambling, blitzing, taking chances in the Ron Lynn scheme, improved again to mediocre in points allowed but was still near the very bottom in yards allowed (meaning teams went on long drives and even if they did not score gave the Redskins less time on offense to get in the game).
Of passing over longtime Redskins Joe Gibbs and Richie Petitbon assistant Larry Peccatiello in favor Ron Lynn, Richie is reported to have said this:
Comparing Larry to Ron Lynn is like comparing a Rolls Royce to a Volkswagen
Why does it matter about Ron Lynn's defenses 13 years ago?  Because Norval made a bad choice on his own because he's not a defensive guy.  It would be in
Jerral W. Jones
' best interest to line up a good defensive guy to take those decisions out of Norval's hands.  Kind of like how Dan Snyder gave Steve Spurrier the gift of Marvin Lewis.
Instead, the Cowboys are looking at a scenario in which the offensive guru comes in and has to deal with the owner's hand-picked offensive coordinator and coach-in-waiting while not properly addressing the defensive game.  This should damage everybody's confidence and send a great message to the players.  A bad offseason for the Cowboys is heating up.
Ben Folsom from The Curly R is still waiting for Las Vegas to regurgitate Skin Patrol.
Norv Turner:  AP Photo