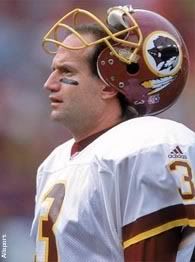 Yeah this worked out well
In partnership for a better Washington football team, The Curly R and Hogs Haven are proud to present a new offseason feature: The Free Agents.    
The 2006 season seems to have validated the notion that while the Redskins do not draft well, at least they can't pick free agents.  Periodically this offseason, we'll be taking a closer look at the Redskin free agent and draft classes since Dan Snyder took over in 1999.
Today we begin with the free agent acquisitions and losses leading into the 2000 season.  Although Dan took over the team formally in May 1999, his first year of real control over the makeup of the team was 2000, the first NFL team ever to break 100 million dollars in salaries.  That team finished 8-8 and four games out of first place in the NFC Beast.
The major free agent pickups that season were S Mark Carrier, QB Jeff George, RB Adrian Murrell, AH Deion Sanders and DE Bruce Smith.  All told, Dan Snyder spent 47 million dollars on signing bonuses in 2000, including 8 million to Deion.
The major player losses were LB Kurt Gouveia, QB Rodney Peete, LS Dan Turk and P Matt Turk.   Kurt retired, Rodney left for his next backup gig on Oakland and Dan and Matt were cut after the botched snap and hold that cost the Redskins their last playoff game before the 2005 season.
In his 2000 team and NFC Beast previews, Sports Illustrated's Don Banks called the division for the Redskins by a wide margin and saw a possible Super Bowl.  So how did those new players work out for the Redskins?
Mark Carrier, in his 11th year, was already pretty much a marked man in NFL's new age of penalizing the helmet-to-helmet hit.  In his first game as a Redskin on September 3 2000, a home win over the Panthers, he laid a hit on Carolina TE Wesley Walls that netted him a one-game suspension, the fifth of his career.  For the rest of the 2000 season, Mark could not get near a player going over the middle without being called for a penalty.  He was let go in the offseason and retired.
Jeff George got a four-year, 18.25 million dollar contract to join the Redskins despite incumbent Brad Johnson, 31 years old at the time, taking the team to the playoffs the previous year.  Jeff played in six games in 2000, throwing 7 touchdowns and 6 interceptions.  In his first start for the injured Brad, on November 5 2000, Jeff threw 2 INTs and got badly juked by Aeneas Williams who was on his way to returning a Stephen Davis fumble 103 yards for a TD.  Jeff was 1-5 as the starter in 2000.  New coach Marty Schottenheimer benched Jeff in game 1 of the 2001 season, a 30-3 loss to the Chargers, and stuck with him at starter for one more game before cutting him two days after the Redskins were shellacked 37-0 at Green Bay on Monday Night Football in game 2.  And thus began the Tony Banks era.  Jeff George has not played with another NFL team since the Redskins.
Adrian Murrell, a three-time 1000-yard rusher for the Jets and Cardinals, appeared in 15 games in 2000, rushing for a TJ Duckett-like 20 times for 50 yards.  Stephen Davis and Skip Hicks were incumbents coming out of 1999, and I did not understand this signing.  Adrian was gone after the 2000 season and was out of the NFL by 2002.
Deion Sanders, Dan Snyder's most coveted free agent of this season, arrived with a 56 million dollar contract and was clearly not the Deion that had tormented the Redskins in Atlanta and Dallas.    His only truly great moment with the team game in game 5 at Redskins Stadium against the Buccaneers when he returned a punt 57 yards in overtime to set up the winning field goal.  ESPN Classic's 31-paragraph profile piece on Deion devotes exactly two sentences to Deion's time in Washington.  Wikipedia devotes one, saying he had "little on-field impact."  Those Redskins fans that did not already despise Deion for being an all around asshole (AH), ex-Cowboy and nothing approaching a true Redskin were infuriated when he retired after the 2000 season, keeping all that signing money, rather than train hard for new coach Marty Schottenheimer.
Finally, Bruce Smith, who signed a five-year 23 million dollar contract with the Redskins after being cut by the Bills in February 2000, was not a terrible player that first season.  At 37 he registered 10 sacks in 2000, though as time went on, it became clear that he was a defensive liability and was only hanging on for the sack record, which Dan Snyder was happy to oblige.  He was largely responsible for the locker room revolt against new coach Marty Schottenheimer in 2001, feeling that a veteran with his stature should not be subjected to the Oklahoma Drill in training camp.  Marty has begun every training camp of his career with the Oklahoma Drill, all players particpate and there are no exceptions.  That team started the season 0-5.  In April 2003 he was arrested for drunk driving in Virginia Beach, and in December of that year, he set the all-time sacks record with 199.  He hung on for one more, finishing with 200 for his career, was cut at age 40 after the 2003 season and then retired.
Overpaid and all at the end of their careers, the 2000 class of Redskins free agent acquisitions was weak and the first evidence of bad decision making by the Redskins brain trust. Three were gone after one season and Jeff was cut two games into 2001.  The team did not need a new quarterback or a new running back, Mark Carrier was bad mojo and Deion and Bruce Smith were supposed to represent cagey veterans making one last push for a trophy but instead were just sideshow freaks.
Our offseason coverage free agents and draft picks will continue.
Ed. Note:  Hi, it's Ben from The Curly R.  Skin Patrol is away this week and the diary regulars and I are watching the shop.  We'll be here through Sunday.
Picture of Jeff George from here