In Part 1, we established that the Redskins' front line has struggled mightily to consistently pressure opposing passers.
In Part 2, we showed that Jason Hatcher was not nearly the pass rusher in the 3-4, that he was in the 4-3.
The Redskins' Aging Defensive Line:
It's possible that the Redskins' defensive line could improve though, right?  Especially, now that Jim Haslett is calling the shots on the defense without the meddling of the deposed emperor Shanahan.  Sadly, the reality is that, in all likelihood, the group will actually regress and struggle even more.  Why, you ask?  Because the Redskins defensive line is older than dirt.
Team Starting Defensive Line Average Age Values and Rankings (On 9/1/14)

| | | | |
| --- | --- | --- | --- |
| | Redskins DL Age | NFL DL Average | Redskins NFL Rank |
| Redskins DL (w/ Bowen Starting) | 31.00 | 28.12 | 30th |
| Redskins DL (w/ Baker/Jenkins Starting) | 29.73 | 28.08 | 28th |
I compiled this data by using Ourlads, Rotoworld and Yahoo depth charts to make projections for the starting defensive line of every team in the NFL.  From there, I then averaged the ages of the starters on each team to come up with an average age for each line.  Looking at these results you can see that the Washington ranks near the bottom of the league with one of the oldest defensive lines in the NFL.  The Redskins still rank 28th even when you replace Stephen Bowen with the Chris Baker/Jarvis Jenkins combination.  I averaged Jenkins and Baker's Ages into one number, because the focus here is not on who will win the starting job.  They are almost the same age, so it really has no effect on the outcomes.  Since we are subtracting one of our least productive and promising linemen from the equation, it's only fair that we do the same for the competition.  Here's how we stack up against the rest of the league when we replace some of the other likely lame duck starters around the league with the young up-and-comers that at are nipping at their heels from behind them on the depth chart.
Team Alternate Starting Defensive Line Average Age Values and Rankings (On 9/1/14)

| | | | |
| --- | --- | --- | --- |
| | Redskins DL Age | NFL Average DL Age | Redskins NFL Rank |
| Redskins DL (w/ Baker/Jenkins Starting) | 29.73 | 27.57 | 31st |
Alright, who in the hell is bringing up the average here?  Let's take a look at the individual ages of the Redskins' starters and see how these men of a certain age compare to their defensive linemen brethren.
Projected Individual DL Starter Age Values and Ranks (On 9/1/14)

| | | |
| --- | --- | --- |
| | Age on 9/1/14 | Starter Rank (Out of 113) |
| Stephen Bowen | 30.42 | 84th |
| Barry Cofield | 30.45 | 85th |
| Jason Hatcher | 32.13 | 98th |
| NFL Average | 28.18 | N/A |
Every projected starter on the team will be at least 30 years old when the 2014 season kicks off in September.  Based on the number of 4-3 (17) and 3-4 (15) teams there will be 113 starting defensive linemen in the NFL at that time.  Each of the 3 Redskins on this list is significantly older than the NFL average for defensive linemen.  The Redskins' youngest projected starter is the 84th youngest player in this group.  Jason Hatcher is the 16th oldest player in this group.  Many of the players, in front of and behind him, on this list will soon be replaced by younger and/or more capable replacements.  If these backups are destined to supplant many of the current starters in the very near future, then it's only appropriate for us to consider them as well.  The defensive line is also one of the most heavily rotated position groups in the league so even if the primary backups in question don't develop into starters, they will still see plenty of action.   I added 26 defensive linemen to our current group of 113 projected starters to account for this (now 139 total).
Individual DL With Starting Potential In Near Future Age Values and Ranks (On 9/1/14)

| | | |
| --- | --- | --- |
| | Age on 9/1/14 | Player Rank (Out of 139) |
| Chris Baker | 26.89 | 58th |
| Stephen Bowen | 30.42 | 108th |
| Barry Cofield | 30.45 | 109th |
| Jason Hatcher | 32.13 | 124th |
| Jarvis Jenkins | 26.35 | 52nd |
| NFL Average | 27.90 | N/A |
The Redskins' current projected starters all rank outside of the top 100.  Neither of Bowen's likely heir apparents, Baker and Jenkins, even rank in the top 50 of this more comprehensive list.  The Redskins' defensive line is truly in the midst of its golden twilight years.  Saying that this is a very serious problem for the Redskins might not do this situation justice.
The Effect of Age on Defensive Linemen Production:
Let's shift the focus back to Jason Hatcher for a moment.  The newly signed free agent did after all, have as many sacks last year as the whole Redskins' D-line did in 2012 and 2013 combined (+ or - 2 depending who you ask).  4-3 or no 4-3, the Redskins will be counting on him to carry the pass rushing load for the line, and rightfully so.  But how long can we expect a player entering his age 32 season to keep it up though?  History tells us: "not long."  Actually, not many players have even had great pass rushing seasons at exactly the age of 32.
It is, however, difficult to define what type of numbers represent a successful pass rushing season.  Hatcher had 11 sacks in 2013, so my first thought was to look for all 32 years old D-linemen that produced at least half as many sacks.  Five and a half sacks also seemed like a fairly reasonable bar to set for our "passing rushing success" criteria.  Unfortunately, I could not search for players that were "3-4 ends", so I started out by looking at defensive tackles.  In my estimation, Hatcher more closely resembles a traditional tackle than an end.  According to Pro Football Reference only twelve 32-year-old defensive tackles had ever met or eclipsed the 5.5 sack mark (or at least since 1982 when the NFL began to officially track sacks).
Only sixty-nine 32-year-old defensive linemen of any kind have ever amassed 5.5 or more sacks, and the majority of them were of the more traditional 4-3 DE variety.  Next, I expanded the search to look for all seasons in which a defensive tackle age 32 and above had recorded 5.5 or more sacks (players could now make the list more than once).  Only 18 seasons were added to the results of my initial search, as there were now a total of 30 seasons that met the criteria.  About two thirds of the additions came from just 7 linemen.  The number did, however, skyrocket to 177 when the query was broadened to "seasons for all defensive linemen, age 32 or older, requiring 5.5 or more sacks."  I delved deeper into the results and discovered that these 177 seasons came from 93 defensive linemen, eleven of whom are hall of famers.  The 11 enshrinees accounted for 41 of these 177 seasons (23%).  Also, once again these results were mainly comprised of seasons from more traditional edge rushers.
Hopefully all of those numbers didn't make your brain explode.  If, in fact, your head is still intact, then take a moment to think about just how rare it is for defensive linemen that are as old Jason Hatcher to amass just 5.5 sacks (again half of his 2013 total).  History shows us that it's even more unlikely for interior linemen to achieve these numbers.  History also hasn't been kind to some of the more elderly Redskins' defensive linemen.
If you think it's unfair to make any judgments based on sacks, the somewhat arbitrary number of 5.5 or on Jason Hatcher's age alone, then maybe this chart from Cowboys writer Jonathan Bales' recent article will change your mind.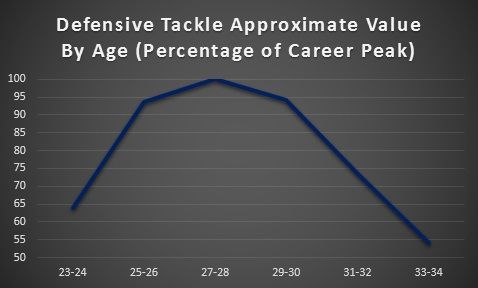 It's also a little disheartening to think that his article was about their recent signing of Henry Melton, and that he felt it necessary to discuss the age of the 27-year-old like this, all while we nonchalantly sign a 32-year-old defensive linemen to a roster that already has three D-linemen over 30.
Conclusion:
There is simply no disputing the fact that the Redskins' defensive line has been atrocious when it comes to generating a pass rush.  They have been one of the absolute least productive and efficient teams in this regard since 2012.  The front office needed to upgrade the position, and they did in the form of signing Jason Hatcher.  Despite how it might have sounded in this series of articles, I actually like the move.  My concern is that the front office, and fans alike, think that the team is adding the Jason Hatcher of 2013 and that this move "solves the pass rushing problem."  Hatcher will not be as impactful as he was in 2013, and while this move is a step in the right direction, it is by no means a panacea to the line's pass rushing woes.  When you have a position group of players that is as ineffective and old as the Redskin defensive line is, then there's almost no one player that can make that kind of difference.  In the big picture, I don't look at this as anything more than a stop-gap measure, because in 2 years we will likely need to have replaced almost the entire defensive line.  The Redskins need to start looking for those replacements now.