In just a few weeks, Pro Football Hall of Fame voters will meet in Indianapolis, Indiana and decide who will be inducted into Canton this year. There were many reasonable and dubious characters for the voters to sift through, yet there were several of the dubious choices that made it as finalists instead of glaring omissions.

Wide receivers Tim Brown, Cris Carter and Andre Reed, running backs Jerome Bettis and Curtis Martin and guard Will Shields made the cut, as did the two senior nominees of defensive back Jack Butler and guard Dick Stanfel. Defensive back Aeneas Williams and defensive ends Chris Doleman, Kevin Greene and Charles Haley and defensive tackle Cortez Kennedy and center Dermontti Dawson and offensive tackle Willie Roaf and former San Francisco 49ers owner Edward DeBartolo Jr. also got into the final stage of the process

A finalist must receive 80 percent of the vote to be selected. Somewhere between four and seven enshrinees are typically announced annually, which will happen the day before the Super Bowl on February 5th, then inducted in August in the Hall's 50th class.

Parcells and Shields were the only two candidates to make the list of finalists in their first year of eligibility. What will happen next is anyone's guess, because it is next to impossible to read the mind of the voters after seeing this list of finalists.

First let's get the obvious choices out of the way. These are players who belong in so much that they shouldn't have to wait, even if there are a ton of worthy candidates who fit that description and have been buried for decades in the senior voters pool.







Jack Butler
Cornerback
Pittsburgh Steelers
9 Seasons
5 Pro Bowls
3 First Team All-Pro Teams
52 Interceptions
10 Fumble Recoveries
9 Touchdowns




I profiled Butler on Crazy Canton Cuts back in 2008.

He is the last person to play in the NFL from Saint Bonaventure University because the school dropped their football program after 1951. Butler joined the Bonnies football team at the request of Bonnie athletic director, Father Dan Rooney, the brother of Steelers owner Art Rooney. Butler then joined Pittsburgh as an undrafted free agent rookie.

He retired early because of an injury, but his 52 interceptions in nine seasons were second most in NFL history at the time. He still ranks second in the Steelers history in total interceptions.

When he retired from playing, Butler became an NFL scout. He was the director of BLESTO for over 40 years until he retired at 80 years old in 2007. Butler has helped start the career of innumerable scouts, player personnel directors, and general managers in the NFL.

Butler was one of the hardest hitting cornerbacks to have ever played the game. Yet, he also had shut down ability, which is shown with his 52 thefts. Personally, I think his contributions off the field make him worthy two different ways.

But, sticking to just his play on the gridiron, there is no question that is is truly a disgrace that Jack Butler has not yet been inducted into the Pro Football Hall Of Fame already. He goes into Canton if I voted, no question.









Dermontti Dawson
Center
Pittsburgh Steelers
13 Seasons
7 Pro Bowls
6 First Team All-Pro Teams




Dawson first started out as a guard before switching the center and became one of the very best in the business. He has been a semi-finalist three times and and finalist twice. It is time he gets inducted.









Curtis Martin
Running Back
New York Jets
11 Seasons
5 Pro Bowls
2 First Team All-Pro
14,101 Rushing Yards
484 Receptions
100 Touchdowns




One of the more underrated running backs of his era, Martin rushed for over 1,000 yards in each of the first 10 seasons of his career. Reliable and durable, he led the NFL in carries and rushing yards in his tenth season.

Martin was much more than a guy who carried the ball. He was an effective receiver and fumbled just 29 times in his career. He is easily the most worthy running back in the 2012 class and surely gets my vote.









Willie Roaf
Offensive Tackle
New Orleans Saints
13 Seasons
11 Pro Bowls
3 First Team All-Pro Teams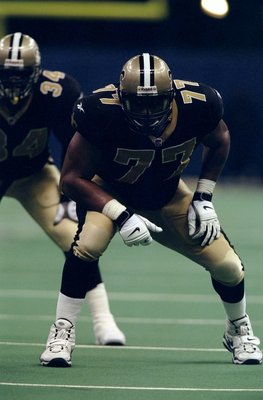 Roaf deserves induction this year. Plain and simple. I think there are a ton of blockers who belong, but the offensive line is usually overlooked.

Even though he missed 17 games because of injuries, Roaf started in every one of the 189 games he played in his career. A cerebral player with immense strength and incredible dexterity, the nimble tackle was rarely beat whether run blocking or protecting the blind side of the quarterback.








Will Shields
Guard
Kansas City Chiefs
14 Seasons
12 Pro Bowls
2 First Team All-Pro Teams




Shields better go in immediately. He missed one start, but played in all 224 games in his career. He was always one guards in the AFC annually. He deserves induction now, but I have been saying this about Chiefs legends Jim Tyrer, Johnny Robinson and Ed Budde for years and years as well.










Aeneas Williams
Cornerback
Arizona Cardinals
14 Seasons
8 Pro Bowls
3 First Team All-Pro Teams
55 Interceptions
23 Fumble Recoveries
12 Touchdowns Scored




Williams is one of many cornerbacks who belong in Canton, joining greats like Lemar Parrish, Pat Fischer, Louis Wright and more, but he may beat them in the race for induction. Like them, he was a premier defender.

One fact easily seen is that Williams made opponents pay when they tried to move the ball in his direction. I believe he is worthy of immediate induction, but I been saying that about Parrish and others for years.







That is six guys right there ready to get inducted. If there is a seventh person to go into Canton in 2012, there is a tough choice to be made. The Hall of Fame has inducted eight or more men three times, yet not have done so since 1967. The voters have frequently gone with just four inductees inducted, an inexcusable amount, and have even inducted just three in 1973 and 1976.

Who will make that seventh selection is a mystery, but two candidates are members of the media and that may give them an extra nudge since they rub elbows with the voters both in social circles and the workplace. It would be better if the induction classes extended to eight again, after allowing the senior voters to nominate four players annually, because there is such a backlog of worthy players being slapped in the face with disrespect as they watch lesser players inducted instead.

If I were a voter who had just walked in and had to vote from this current group of finalists, I would be torn between two players. While both are certainly worthy, one played over twice as long in his career. While the rules that player participated in helped immensely, where the other played in an era would you could feed your family better by not playing football.

My pick would be :


Cris Carter
Wide Receiver
Minnesota Vikings
16 Seasons
8 Pro Bowls
2 First Team All-Pro Teams
1,101 Receptions
130 Touchdowns




Carter got to enjoy rules friendly to the offense in an obscene fashion. He had a gift, however, of making catches in the end zone.

That gift had him once released by the Philadelphia Eagles, where head coach Buddy Ryan the reason was that all Carter did for the Eagles was "catch touchdown passes". The truth was that Carter was abusing drugs and the wide receiver credits his being cut as the wake up call that saved his life.

The Minnesota Vikings claimed him off the waiver wire right away, where he eventually started and would hold that spot the remainder of his Vikings career. One of Carter's strengths was his conditioning and durability. Though he missed four games because if injury in one season, he played every other game possible for Minnesota.

He led the NFL in receptions once and in touchdown catches three times. Seven different quarterbacks were the primary starter in his 12 seasons with the team. Despite all the lunacy and confusion, Carter was a beacon of steady leadership and consistent production.

Carter accumulated double figures in touchdown receptions in five of his Pro Bowl years. What also made his production even more special is the fact he had to share receptions with future Hall of Fame wide receiver Randy Moss, Pro Bowl wide receivers Jake Reed and Anthony Carter, and Pro Bowl tight end Steve Jordan.

Carter has been a finalist for induction into the Pro Football Hall of Fame four times so far. He ranks third in NFL history in career receptions, fourth in career touchdowns catches and eighth in career receiving yards and total touchdowns.

Then there are the old school fans who point to the obvious fact Carter never dealt with the ten-yard chuck rule, which makes it much harder to excel as a receiver, as opposed to the offensive-friendly rules he participated in. Rules that greatly inflate statistics and can help make a player look better than players who did not benefit from the rule changes. This fact has made modern statistics dwarf the numbers from the ten-yard chuck era.

Men like Mac Speedie, Lionel Taylor, Charlie Hennigan, Harold Carmichael, Drew Pearson, Gino Cappelletti, Sonny Randle, Cliff Branch, Harold Jackson, Pete Retzlaff, and LaVern Dilweg are just a few great receivers on par with Carter and are also awaiting their inductions. Men who dealt with a much rougher game, let alone the ten-yard chuck.

Carter has a feel-good story attached to his career, one that has now extended to where he provides analysis on television. With his career on the ropes because of drugs, he rebounded and became a leader and won the Bart Starr Man of the Year Award, the Bryan "Whizzer" White NFL Man of the Year Award and the Walter Payton Man of the Year Award.

Besides the 17 NFL records he either owns or shares, he is a member of the NFL's 1990s All-Decade Team. He is one of the 50 Greatest Minnesota Vikings as well as being a member of their 40th Anniversary Team.

The Vikings have retired his jersey and have had a huge amount of great receivers to play for them. Cris Carter may be the best ever for this franchise and certainly deserves to move on to being more than a finalist this year.







Again, I want EIGHT in the 2012 class. It doesn't have to be just seven going in, and this unwritten rule basically screws players because some paperclip pusher may think seven looks prettier on paper.

If the voters got it right and put in eight, I'd put in a guy who has waited forever and may never get this close again.



Dick Stanfel
Guard
Detroit Lions
7 Seasons
5 Pro Bowls
5 First Team All-Pro Teams




Stanfel lasted only seven years, but he was amazing in his time. His rookie year was the only season he did not earn an accolade. After four seasons with the Lions, he joined the Washington Redskins and suddenly retired at just 31 years old.

He played in an era where the pay scale was so minimal, players usually made more money working other jobs. Stanfel left the game so he could feed his family at a higher-paying job. There were just three starting offensive lineman in the NFL older than Stanfel when he left the game.

Yet many historians agree there were few guards better to play the game. Despite his limited years, Stanfel is a member of the 1950s All-Decade Team. I'd put him in Canton, so hopefully he gets inducted.





That leaves a group of finalists who will have to wait another year hoping that get this close again. There are a few worthy, then are a few I personally would not vote in simply because there are a ton of better candidates seemingly forgotten by the voters and they remain buried in the senior voters pool of candidates.

Here are the most worthy candidates we should one day see inducted into Canton :





Jerome Bettis
Running Back
Pittsburgh Steelers
13 Seasons
6 Pro Bowls
2 First Team All-Pro Teams
13,662 Yards Rushing
94 Total Touchdowns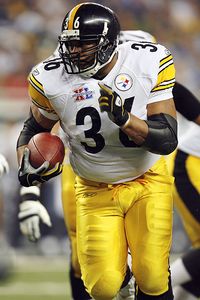 Bettis was involved in one of the biggest steals ever, when the Steelers got him from the Saint Louis Rams in a trade. He ran for over 1,000 yards in eight of his first nine seasons, showing remarkable durability because his game was running between the tackles.

Not much of a receiver, he could be depended on once handed the ball. He fumbled 41 times, but he usually rewarded his teams with a pounding style that wore out opponents while chewing up the clock.

There is no question that Bettis is worthy of induction into Canton.







Chris Doleman
Defensive End
Minnesota Vikings
15 Seasons
8 Pro Bowls
3 First Team All-Pro Teams
150.5 Quarterback Sacks
8 Interceptions
2 Touchdowns
2 Safeties




Defensive end is a position stacked with worthy candidates who are not amongst the current semi-finalists. Men like Claude Humphrey, Jim Marshall, Coy Bacon, L.C. Greenwood and many others head a list of men at this position worthy of induction.

Doleman's numbers do not lie. He was a play-making machine. But he was more than a pass rush specialist at defensive end, which is shown by the fact he exceeded 100 tackles twice in his career. Doleman did get more than 10 sacks eight season and led the league once.

There is no doubt Doleman is worthy of induction, and it would be a shame if he had to wait as long as other past greats like Humphrey or Bacon. Yet I can't say he deserves to go into ahead of them too.









The remaining finalists is yet another demonstration many voters are clueless glad-handers who need to be replaced by the men who actually played the game and certainly know best on who and who doesn't belong within the hallowed walls of Canton.



Eddie Debartolo Jr.
Owner
San Francisco 49ers
23 Seasons




This guy is a finalist instead of a ton of worthy players? What a waste of space! I hope he never reaches these heights again. As just owners go, I could name a huge handful more worthy than a guy who left the game in disgrace.






Charles Haley
Linebacker
San Francisco 49ers
13 Seasons
5 Pro Bowls
2 First Team All-Pro Teams
100.5 Quarterback Sacks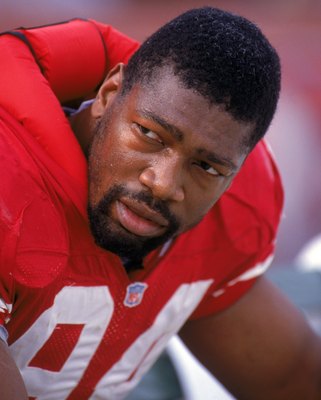 The only reason Haley has been a semi-finalist three times and finalist once before is because he played on five teams that won Super Bowls. Strictly a pass rush specialist, he never had more than 69 tackles in a season.

Honestly, Charles Haley does not belong in Canton. He never led the league in any category, though he did have the good fortune to play on good teams and was able to line up at defensive end as well. There are way too many candidates more richly deserving of induction over him.







Andre Reed
Wide Receiver
Buffalo Bills
16 Seasons
7 Pro Bowls
951 Receptions
88 Touchdowns Scored




Reed was a precise route runner who was more good than great. He never led the league in any category and exceeded 1,000 yards receiving just four times despite playing in a era that caters to offensive production.

What gets him this far is the fact he played on four teams that reached the Super Bowl. He had a Hall of Fame quarterback and running back helping him as well a set of rules that made him look better than he was. I classify Reed as a very good player, but I'd put a ton of wide receivers into Canton ahead of him.








The rest of the finalists were basically a group of guys where one could look back in NFL history and see a long line of better players still awaiting induction. Many becoming unknown and forgotten as time steadily moves forward, and one suspects a few of these finalists will soon join them in that classification.





Tim Brown
Wide Receiver
Oakland Raiders
17 Seasons
9 Pro Bowls
1,094 Receptions
105 Touchdowns




Brown certainly is a product of the rule changes that allows receivers to roam untouched after five yards, but he was more than just a pass catcher. Brown also made an impressive mark on special teams

My issue with his being inducted is the fact he was never selected First Team All-Pro and led the league in receiving just once. Brown did lead the NFL in punt and kickoff return yards once.

But is that worthy of induction into the Pro Football Hall of Fame? I say no and chalk him up as a good and reliable player who lasted a long time.







Kevin Greene
Linebacker
Los Angeles Rams
15 Seasons
5 Pro Bowls
2 First Team All-Pro Teams
160 Quarterback Sacks
5 Interceptions
26 Fumbles Recovered
3 Safeties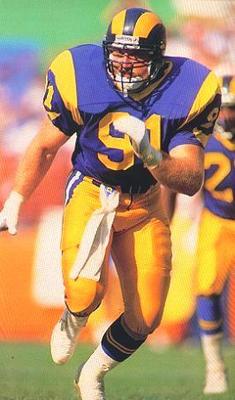 A hired gun as a pass rush specialist, Greene played for five different teams in his career. While getting to a quarterback was his main focus, he did get 87 tackles one year. He had 10 or more sacks in 10 different seasons.

Greene was named NFL Defensive Player of the Year once and led the league in sacks twice. He is a lot like Charles Haley in that he did just one thing really well, but the fiery player was versatile enough to create turnovers defending the pass on occasion.

He is worthy of being a finalist, but there are a ton of other outside linebackers I'd put into Canton ahead of him.





Cortez Kennedy
Defensive Tackle
Seattle Seahawks
11 Seasons
8 Pro Bowls
3 First Team All-Pro Teams
58 Sacks
3 Interceptions




Kennedy is a bit of a conundrum for me, as far as being worthy of Canton. He was a playmaker who sacked the quarterback pretty often for a defensive tackle. He did enjoy three excellent seasons where he piled up 242 tackles over that time.

Yet he recovered a measly six fumbles in his career and he had four mediocre season. I can't say he is worthy, just because there are many defensive tackles, like Curly Culp, I consider superior. Yet it wouldn't be that frustrating if he went in either.






Seeing how great general managers like George Young and Ron Wolf did not make the cut, while Ed DeBartolo did, brings to mind there should be another adjustment to the voting process for induction. Young and Wolf certainly belong, just like NFL Films creator Ed Sabol did a few years ago, but it shouldn't come at the expense of the players.

The voters should separate coaches, general managers and contributors, giving them there own platform. Still have them require 80 percent of the vote, but add their induction to the ceremony instead of subtracting a player from the process.

Assistant coaches need to be included too. Great coaches like Bud Carson, Joe Bugel, Jim Hanifan and others had careers worthy of Canton, but the assistant coach basically is shunned by voters as inconsequential to their determination on who belongs.

This would bring enlarged classes some years, but there is nothing wrong with eight people inducted. There should be no limit on how many people can be voted in each year. The reason for this statement is because there of a former head coach and general manager amongst the finalists.

While he won two titles in a fish bowl like New York City, he got both too much attention because the area is literally saturated with members of the media and even houses the league's headquarters. Many people have
buckled under the pressure, yet this man survived and even went on to coach another team that gets too much media attention.

Now a member of the same media that use to follow him around like lost puppies who hung off every utterance he put forth, there is a very good chance yet another deserving player will have a slot stolen from them in the 2012 class.



Bill Parcells
Coach/ General Manager
31 Seasons
172 wins
2 Super Bowl Wins




Parcells is here because he coached the New York Giants, a team flooded with media attention. While a good coach who has 42 more victories than defeats, he also had some limited successes with the New York Jets, Dallas Cowboys and New England Patriots.

Known as the "Big Tuna", he was named NFL Coach of the Year three different seasons and is a member of the NFL's 1990s All-Decade Team. He then went on to become a general manager and had mixed results.

Does Parcells belong in ahead of such legendary coaches like Buddy Parker, Chuck Knox, Tom Flores, Dick Vermeil and others? He doesn't belong in ahead of Don Coryell, but the New York City factor might push him in. I think he fairly worthy, but I think that of a few others as well.






Then there is the man who should have been a finalist and inductee. He died last year without witnessing his deserved respect, but got to see the league cash in on his creation annually. The NFL offense of today still relies on his genius, despite the voters obtuse knowledge of football preventing him the rightful immortality earned years ago while still echoing to this very moment.







Don Coryell
Saint Louis Cardinals
San Diego Chargers
14 Seasons
111 Wins
First Coach With 100 Wins In Pro And College Football
Only Coach To Lead NFL In Passing 6 Straight Years
5 Division Titles




The biggest no-brainer of the semi-finalists. It is disgusting he hasn't been inducted already, and even more revolting he passed away last year and will never get to enjoy his deserved respect from a game that still leans heavily on his genius to this very day. Crazy Canton Cuts profiled Coryell in 2009.

Coryell played college football at the before getting into coaching. He succeeded George Allen, who later became a Pro Football Hall Of Fame coach.

He also showed his innate ability to develop players, especially on offense. He had 54 players go to the NFL from his college teams, including five players drafted in the first round. Nine of his players were First Team All-Americans. In 1967, he had eight players drafted, and five went in the first two rounds.

The Coryell coaching tree from his collegiate era is very impressive as well.

Joe Gibbs was a player on Coryell's team at first and won the team's Most Inspirational Player Award once. Gibbs later became a graduate assistant, then assistant coach at San Diego State.

He also was an assistant under Coryell with both the Cardinals and Chargers before becoming head coach of the Washington Redskins. Gibbs is a member of the Pro Football Hall Of Fame.

Another Pro Football Hall Of Fame coach who coached under Coryell at San Diego State was John Madden. Madden would join the Oakland Raiders and then become the youngest head coach of the league the next season at 32 years old.

Legendary men like Jim Hanifan, Ernie Zampese, and Rod Dowhower also coached under Coryell at San Diego State. Coryell's 104 victories and .840 winning percentage are the best in Aztec history, and he is a member of the College Football Hall Of Fame.

He then moved to the NFL to lead the Saint Louis Cardinals. His 42 wins are the most by any coach in the Cardinals franchise's history, and his five years as head coach with the team is the second longest tenure ever.

The San Diego Chargers would later hire Coryell. This was when "Air Coryell" was born as a common term, even though Coryell's years in Saint Louis also featured high-powered offenses running under much of the same schemes also used in San Diego.

When Coryell retired from the NFL with 111 wins in 195 games overall, he is the first head coach with 100 victories in both professional and collegiate football.

To try and sum up this man's career or impact on football is nearly impossible. Virtually every offense today, on all levels of the game, is a variation of his system. In his 14 seasons as a coach, his offenses led the NFL in net yards gained per passing attempt five times. They finished in the top-five of the NFL six more times.

His teams led the NFL in passing yards seven times and none of his teams finished lower than seventh. They led the NFL in passing touchdowns three times and finished in the top ten nine other times.

Many Hall Of Fame players and Pro Bowlers were coached by Coryell in the NFL. The list of players inducted into Canton includes Dan Fouts, Kellen Winslow, Charlie Joiner, Dan Dierdorf, Jackie Smith, Fred Dean and Roger Wehrli.

Coryell changed the way football was played. It is still being played the way Coryell invented to this very day. The now all-to-common sight on multiple receiver sets was first started by Coryell, as are many versions of offenses being run these days.

They are all spawns of his genius.

Winslow stated it best when he said, "For Don Coryell to not be in the Hall of Fame is a lack of knowledge of the voters. That's the nicest way that I can put that. A lack of understanding of the legacy of the game."

An ignorance that has wrongly kept Don Coryell from taking his rightful place in Canton.