10. Robert Quinn, DE/ OLB, North Carolina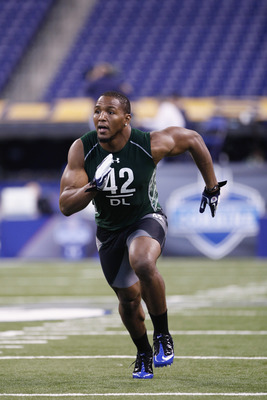 Quinn came into the draft with a past of character issues and a benign brain tumor. He started crawling up the draft board at the combine and shot up even higher after his pro day.

Linebacker is one position the Redskins are woefully thin at, and their leader will be 36 years old if the 2011 season goes on as scheduled.

London Fletcher will be asked to possibly plug the middle of a defense with unproven Perry Riley since Rocky McIntosh is an unrestricted free agent. Andre Carter has been released, though he never really did fit in the defensive scheme as an outside linebacker. Defensive end in a 4-3 is his best position, yet his departure opens the slot for Quinn.

Quinn is a lot like Redskins Pro Bowler Brian Orakpo in that he can get after the quarterback and has some ability to play defensive end. He adds options off the edge and is also athletic enough to improve upon his pass defense, an area Orakpo has also been trying to improve on. Neither is really stout against the run, but their athleticism and first step are exceptional.

With the Redskins' "Amoeba" defense, which is run by ex-NFL Pro Bowl linebacker and current defensive coordinator Jim Haslett, Quinn offers flexibility and options.

Auburn defensive tackle Nick Fairley could slip to the Redskins, but the Tennessee Titans have a defensive line coach who could prevent this from happening. Tracy Rocker is an ex-Redskin who is the first person in SEC history to win both the Outland and Lombardi Awards in the same year. He coached Fairley in college, so Tennessee has a good chance of grabbing the defensive tackle here.

It is possible that Washington will try to improve the offense by drafting a quarterback, especially since that is Shanahan's area of expertise. Jake Locker might be too tempting to pass up.

Prince Nakamura is a cornerback with a lot of upside to him. Starter Carlos Rogers and his backup, Phillip Buchanon, are unrestricted free agents. Both are older players too, so now might be the best time to get someone groomed.

Buchanon has been erratic at best, but Kevin Barnes has shown little since being drafted in 2009. Most of what Barnes has given the team came from the safety position so far.

Nnamdi Asomugha may get a look since Redskins owner Dan Snyder likes to make a big splash in the free agency market and Asomugha is the best player available.

If Washington ignores the cornerback position in the first round, then getting more linebackers is a good direction, especially if they lose the versatile McIntosh and DE/OLB Chris Wilson in the free agency market.

Plus the thought of Orakpo and Quinn coming off the edge brings images of havoc-wreaking play for a defense looking to turn over the ball more.





41. Torrey Smith, Wide Receiver, Maryland University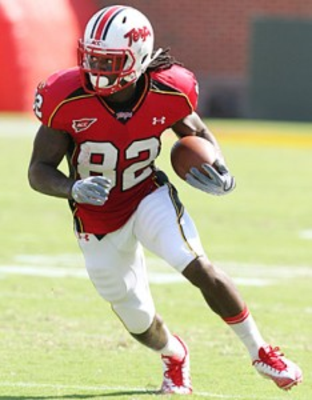 Even if the Redskins bring back free agent Santana Moss, Washington needs help at receiver.

The Vinny Cerrato Era saw Washington strike out in their attempts to draft players with Malcolm Kelly spending his time on the bench and Devin Thomas now with the New York Giants.

Smith is a player who can make the big play. He has excellent speed and is a hard worker who has improved his game each year in college.

Smith has all the makings of being a starter in the NFL. The one area he needs work in is his route-running, but he loves to block. He is also a great return specialist, an area in which the Redskins need a lot of help. If Moss returns, Washington could bring Smith along as a third receiver and have him return kicks.

Phil Taylor is a nose tackle who could possibly fit here. If he's available, Washington should think about grabbing the big man. A 3-4 defense is generally only as good as the nose tackle, and the Redskins really have no one special at this position.

Taylor is a mammoth man with incredible strength. While he has better speed than expected for a man his size, Taylor does have durability concerns and had a tendency to give up on plays during his collegiate career. He also had character issues early in his college career.

It is highly doubtful Taylor lasts long in the second round, and there is a chance he could go earlier. Even if Taylor turns out to be just a plugger, it is an upgrade over what the Redskins have right now.

But Torrey Smith has the ability to be special..He also went to nearby Maryland University where the Redskins have gotten some good players the last few seasons.






144. Will Hill, Free Safety, Florida University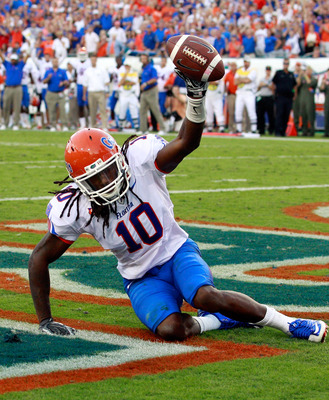 This is Washington's first pick in three rounds, so it has to count.

Kevin Barnes was forced to play free safety last year when injuries destroyed the Redskins' already-dubious secondary, so Hill adds much needed depth.

Hill is extremely raw, but is an exceptional athlete. He has good size and speed for the position, but will need a lot of time in the film room to develop the next year. Until then, he will help a lot of special teams.

Though he is physical run-defender, consistency has been his issue. He needs to improve his read/reaction time, thus the need for more time in the classroom. He closes in on plays fast and has good hands.

If he puts in the work, Hill could be a productive starter because he has all the necessary physical tools.

With very few safety prospects at this position, probably the weakest in an already-mediocre draft, Washington grabbing Hill here would be a good move.






155. Marcus Gilbert, Offensive Tackle, Florida University



Gilbert has good size (6'6", 330 pounds) and is a good athlete who faced top-flight opponents at Florida.

He is a mauler who excels at run-blocking, but needs work at pass protection. He is not quick or really athletic, and will need to refine his footwork, but he is versatile enough to play guard.

Veteran Jammal Brown is an unrestricted free agent who dealt with nagging injuries in 2010. Even if Washington brings Brown back to man the right tackle position, they need depth there and at guard.

Gilbert has the ability to be an NFL right tackle. Some think he can play guard in the NFL too, so that type of swing-man is always needed on every roster.






213. Taylor Potts, Quarterback, Texas Tech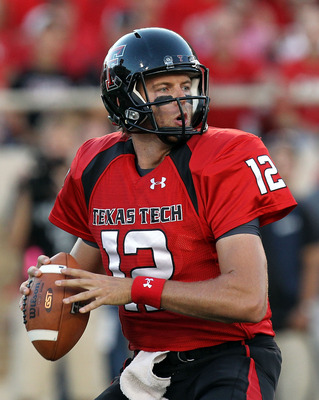 At 6'4", Potts has good size for the position and offers Redskins head coach Mike Shanahan a quarterback to groom.

He stood out at the NFLPA game, but still has work to put in; footwork and getting rid of the ball faster are the two biggest areas.

He comes from Texas Tech, a school that loves to toss the ball. He needs to show he can take a snap under center and be effective though. Potts has shown good arm strength, but is a project at this point.





224. Da'Rel Scott, Running Back, Maryland University




Washington needs running backs in camp to push the unproven position. Scott comes from their own backyard having played at Maryland University.

Scott is a tough player known to play through pain, but he does have a past with injury concerns. He displays good moves and vision with the ball. Maryland did not throw him the ball much, but he had soft hands when given an opportunity.

Scott could add depth while helping on special teams, but will have to have an excellent training camp to supplant the veterans in front of him.








253. Blaine Sumner, Nose Tackle, Colorado School of Mines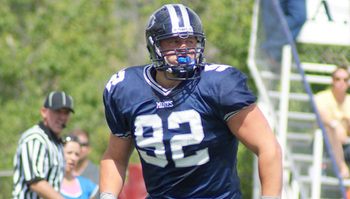 Sumner comes from a small school called Colorado School of Mines, so the level of opponents he has faced is questionable. But he is 6'1", 335 pounds and very strong, which has the nose tackle position beckoning him.

There are very few nose tackle prospects in the 2011 draft, so Washington might not want to risk trying to sign him as a free agent because he will get offers.

Sumner is a power-lifter who set a combine record with 52 reps at the bench-press. Redskins defensive line coach Jacob Burney will need to put extra work into this kid though because Sumner is not a great athlete.

He is a three-year starter who shows good awareness, despite being very raw. With his awesome strength, the Redskins should take a flier on Sumner.