The NFL has been called the "Not For Long" game for decades, and this fact has accelerated since free agency was introduced. Rosters of teams are frequently encountering some amount of personnel turnover, no matter how much success was had in the previous season.

The one position a franchise seeks stability at most is the quarterback position. This player handles the football on most plays, and many are expected to be amongst the most important leaders of their teams. The quarterback also typically enjoys one of the largest salaries on the payroll once he becomes a starter.

The annual draft brings a plethora of collegiate athletes who want to be the next Johnny Unitas, Joe Montana or Tom Brady. A type of leader who wins many titles on their way to gridiron immortality by being inducted into the Pro Football Hall of Fame.

The 2012 season should be no different than others in the NFL, meaning there will be quite a few teams trying to find their next franchise quarterback. Then there are others who would like to strengthen the position by bolster the bench in case an injury occurs to their incumbent starter.

Here is a peek at a few of those teams that will most likely look to improve their roster at such a key position.

Indianapolis Colts




The Colts are well in the lead for the right to select Andrew Luck with the first overall pick in the 2012 draft, considering the team has failed to win a single game so far this season. The team might might miss future Hall of Fame quarterback Peyton Manning immeasurably this year, but Manning will be 36 next year.

Not only does Manning's age make the selection of Luck even more important, the fact that the veteran is struggling to heal from a neck injury has his future in doubt. But the Colts would like to get a few more years from Manning, considering they had signed him to a huge contract extension before the season began.

If Manning returns at a starters level, it helps Indianapolis. Not only would they have their fiery leader back, Luck could sit and learn from one of the best quarterbacks in franchise history.

If Manning's neck injury prevents a full return, Luck is skilled enough to step in right away and play at an NFL level. Luck has quite a few similarities to Manning.

Both are not only students of the game, but they are both the sons of former NFL quarterbacks. They have basically lived and breathed the gridiron since the day they were born.

Rarely does a team have the ability to transition from a Hall of Famer to a possible future great. The Green Bay Packers are experiencing this now, and the Colts would surely love to follow in their footsteps and hoist a Super Bowl trophy with their young quarterback one day.





Miami Dolphins




It seems a certainty Miami will use their 2012 draft pick on a quarterback. The only question will be if they go with Matt Moore another year at starter, as they develop the rookie, or throw the kid to the wolves immediately.

The Dolphins will most likely have a new head coach next year, as well as waive Chad Henne. Henne, who had started 31 out of 34 games before being hurt early this year, appears to be better served to find newer surroundings. Moore, who has started since, has been serviceable at best.

Perhaps the Dolphins fans are tiring of a franchise that is seemingly rebuilding each season the past decade, but the team is still looking for the next Bob Griese or Dan Marino. They will eye talents like Matt Barkely, Landry Jones, and possibly Robert Griffin. If Miami continues to struggle in 2011, many experts feel Barkely will be the selection very early in the 2012 draft.





Washington Redskins




Redskins general manager Bruce Allen and head coach Mike Shanahan knew they were gambling with the likes of Rex Grossman and John Beck at quarterback this year. On a team full of holes and looking to rebuild, Allen concentrated on filling the roster with a very sound draft.

With a season shortened by a strike, the Washington brass may not have felt comfortable trying to develop a rookie quarterback in such a short amount of time. Training camp is crucial for a young player to learn his organization from top to bottom.

After watching the current Redskins quarterbacks stumble and bumble around so far, many expect the team to finally draft a quarterback in Shanahan's third season. Some think the team also didn't do so in 2011 because there were no quarterbacks they were in love with.

It is possible Washington replaces both of their current quarterbacks via free agency and the draft in 2012. Possibly grabbing a veteran to man the helm as the kid develops, setting up a view of progress in the two last years of Shanahan's contract the following year.

After a fast start, the Redskins are on a dreadful losing streak currently. If this continues, the team will sit pretty high up in the draft order. Other teams with lesser records, the Indianapolis Colts and Miami Dolphins, are expected to also draft a quarterback in 2012.

If, as expected, Andrew Luck and Matt Barkely are off the board by the time Washington picks, the team will be left with Landry Jones and Robert Griffin. Griffin is more athletic, the type of quarterback Shanahan has had success with in the past. Landry is experienced and precise.

Both have accurate guns and many collegiate starts under their belts, so the Redskins would win big drafting either player. This draft may be the time for Shanahan and Allen to put their Redskins legacies on the line by finally grabbing their franchise quarterback.




Cleveland Browns




Colt McCoy is the starter, and the young player is on a struggling team that is desperately trying to get good talent around him while learning a new offensive system under a new head coach. All three Browns quarterbacks on the 2011 roster are small, standing about six-foot tall each.

Seneca Wallace is the veteran that serves as the top reserve. He is mostly known for his legs than arm. Thaddeus Lewis is a raw prospect in his second season with the team.

Cleveland could take a flier on Ryan Tannehill as early as the third round. After spending his first two years of college at wide receiver, the 6'4" Tannehill has ocassionally displayed a skill set that will impress teams. He is extremely raw, but very athletic and a hard worker.

With McCoy entrenched as the starter, Cleveland can afford to spend a few years developing this intriguing project. Tannehill is the type who could greatly award a coach's patience down the road.





Arizona Cardinals




Kevin Kolb has not played well since the Cardinals traded a lot to get him this season. His backup, second-year pro John Skelton, has played better. Journeyman Richard Bartel is third on the depth chart, while the young Max Hall is spending 2011 on the injured reserve.

It is unlikely the Cards dump Kolb, but owner Bill Bidwell is known for his frugality and Kolb becomes a free agent at the end of the year. This factor could have Arizona to go with Skelton next year.

If that happens, Arizona may not be comfortable with Hall and Bartel as the main reserves. The team could look at an experienced player like Chandler Harnish in the later rounds, or even look at local hero Nick Foles early on.




Kansas City Chiefs




Matt Cassel hasn't impressed everyone since the Chiefs traded for him in 2009 and handed him a contract worth $61 million over six years. Even if he continues to start, the reserves behind Cassel are from from impressive.

Journeyman Tyler Palko, who has 35 passing yards since turning pro in 2007, is the top backup. Rookie Ricky Stanzi, drafted in the fifth round of the 2011 draft, sits on the bottom of the depth chart.

Cassel is now hurt, so Palko will get his audition. The Chiefs erratic 2011 season could take a turn for the worse now, which could force them to think about bringing more quarterbacks into training camp next year.

Gettin a veteran free agent seems most logical, but there could be an interest in getting a solid player like Kirk Cousins or Brandon Weeden later in the draft if Palko plays poorly. Weeden is the 2011 version of Chris Wienke, meaning he is going to be a 28 year old rookie, so his age could cause his draft stock to drop down into the later rounds.




Seattle Seahawks




Tavaris Jackson is starting now, but his play has been inconsistent. Charlie Whitehurst, his reserve, has been horrible whenever he has played. Josh Portis is an athletic and raw rookie prospect Seattle has kept on the roster this year.

Pete Carroll is still rebuilding his team, turning over personnel at a rapid rate. Yet he hasn't gone after a quarterback in the draft he wanted to start. This could be the year he uses a first round draft pick for the position.

Seattle is struggling right now, but so are 10 other teams with records the same or worse than the Seahawks 3-6 mark. There are no guarantees that Seattle would get to Matt Barkley, who was recruited to play at USC by Carroll just a few years ago.

The only other quarterbacks considered a first round talent after Luck and Barkely is Landry Jones and Robert Griffin. Both are big with strong arms that have excellent accuracy. While Seattle could gamble with Jackson in 2012, now may the time for Carroll to get his quarterback of the future.




Oakland Raiders




Oakland has basically mortgaged their future into Carson Palmer at quarterback, but the backup quarterback position could be an issue in 2012. Jason Campbell, who began the season as the starter until an injury to him prompted the Raiders to trade for Palmer, may want out to find a starting job elsewhere next season.

Kyle Boller probably won't be on the team next year, considering how poorly he played when Campbell went down. Oakland used a supplemental draft choice on Terrelle Pryor, a project who is most likely years away from being ready to contribute.

Getting a free agent veteran to carry a clipboard is most likely the direction the Raiders will go next year if Campbell leaves the team. Al Davis has passed away, but his legacy lives on. There is a chance the team might grab a kid after the draft to see if they can develop a competent reserve for Palmer in the years ahead.




Denver Broncos




It seems almost a certainty that Kyle Orton will leave the Broncos at the end of the year. Reserve Brady Quinn seems destined to remain a bench player for however long he stays in the NFL.

Tim Tebow can't throw or read defenses, but he can win games. Some critics are not sold that Broncos president John Elway, a Hall of Fame quarterback, is sold on Tebow a the future at the key position. Tebow could alleviate any purported issues by continuing to win.

If they keep Tebow, they still need to get a backup besides Quinn. That may require Denver selecting a quarterback in the mid-rounds of the 2012 draft. If the Broncos rather jettison Tebow or bench him, they will have the conundrum of using a first round pick on either a signal caller or continue building the defense.

Kellen Moore is a lefty like Tebow, and he also has the most wins by a starting quarterback in NCAA history. A gritty and cerebral type, he could provide a decent backup on a team. He could go anywhere from the third round on.

If Denver decides to go in a different direction than Tebow, an athletic type like Robert Griffin III could interest Elway. Nick Foles could be there in the second round, because he may take longer to develop, while Griffin appears destined for the first.





Houston Texans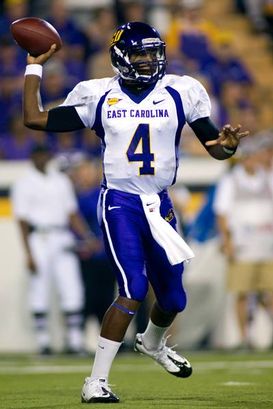 Matt Schaub is the starter, but he is often battling injuries. Houston has had a history of picking up discarded first round flops to back him up, ranging from Rex Grossman to Matt Leinart.

T.J. Yates was drafted in the fifth round of the 2011 draft, so the Texans may eschew from grabbing another project to develop. Schaub is hurt again, this time for the rest of the year, so Leinart will become the starter.

If Leinart fails, Houston might look into the free agency market to get a better veteran on the bench. But a failure could also bring a change at the head coaching slot, so a new administration may decide to go with young players.

Dominique Davis is an interesting project who might last until the later rounds of the 2012 draft. Unlike the three current Texans quarterbacks, Davis is athletic.




New York Jets




Mark Sanchez, as erratic as he is, should hold the staring job once again in 2012. But getting some youth in the backup slot may not be a bad idea.

Sanchez's top reserve is 41 year old Mark Brunell, whose NFL career should be nearing an end this year. The Jets have journeyman Kevin O'Connell, who has 28 career passing yards since being drafted in the third round of the 2008 draft.

It isn't a bad idea to consider drafting a quarterback in the later rounds. Case Keenum, who has the most passing touchdowns in NCAA history, should be there.




Jacksonville Jaguars




The future is now with rookie Blaine Gabbert, who has been struggling mightily as he tried to go for the spread offense, which he played in college, to the pro set in Jacksonville. His only backup is journeyman Luke McCown.

McCown began the season as the starter, but quickly lost it after horrendous play. The Jags are not molding anyone on the practice squad, so they need to consider upgrading the backup job through the draft.

Since they used their 2011 first round pick on Gabbert, Jacksonville could wait late in the draft in 2012 before grabbing a quarterback. Ryan Lindley is just one of a few to consider, despite the fact he has struggled in his senior season.




New York Giants




Eli Manning has the starters job unquestionably. David Carr, the first overall draft choice of 2002, has been his backup in three of the last four years. Yet Carr will be 33 years old before the 2012 season starts.

Rookie Ryan Perrilloux sits on the practice squad, but it wouldn't be a bad idea to get another youngster in camp to see if Manning could groom them into a serviceable player down the road. Yet the Jints may not want to waste a draft pick, opting to look in the free agents pool.

E.J. Manuel is a huge kid who could go undrafted, as could people like Jacory Harris The Giants wasted draft picks in the recent past on guys like Andre Woodson and Rhett Bomar and got nothing in return, so they could stand pat with Carr and Perrilloux.




Green Bay Packers




Rumors of backup Matt Flynn departing at seasons end began awhile ago. He has been called the next Matt Cassel, even if he has less NFL experience than Cassel did when he switched teams in 2009.

Flynn has been a reserve since 2008, thrown 86 career passes, and lost the only game he has started. Yet there are rumblings his services will be sought after when he becomes a free agent at the end of this year.

If that happens, the Packers could opt to go with Graham Harrell. A journeyman on their practice squad, there is a chance he will hold the honor of backing up star quarterback Aaron Rodgers.

Green Bay general manager Ted Thompson could look at this position in the later rounds, where interesting projects like Dan Persa or Jarrett Lee will sit. Lee is from LSU like Flynn and the pairs collegiate careers parallel each other somewhat.