KC Joyner had this article about Haynesworth and making the switch to 3-4 NT.  I think he will be a DE but it was still informative.  Since it's an ESPN insider Article I thought I would cut and paste the whole article for everyone on HH.  Everything below the jump is from the article.  Sorry if the formatting is bad.


Abraham Lincoln once said that people are generally about as happy as they make their minds up to be. If that is true, then it can be said that just about everyone involved in the ongoing cold war between Washington Redskins management and Albert Haynesworth must have made their minds up to be unhappy about the situation.
That has to be the case because if they were relying on the facts of the matter, happiness would abound.
For example, to hear some of the reports coming out of Washington, there is concern that the Haynesworth signing could go down as possibly the worst free-agent pickup in NFL history.
One of the prerequisites for making that kind of case would be that Haynesworth did not perform as well for Washington last year as he did in his last couple of seasons with the Tennessee Titans. A tape review analysis I did of Haynesworth's past three seasons says that simply isn't the case.
Let's start with his numbers against the run.
The core metric for gauging a defender's run-stuffing ability is the point of attack (POA) win percentage metric. This statistic credits a player with a POA attempt whenever he is at the area where the ball carrier attacked the line of scrimmage. A POA win is given whenever the defender does beats his blocker and negatively impacts the play.
NFL Rumor Central
If Haynesworth moves, where could he go? Follow along with our guys. NFL Rumor Central
In the two seasons prior to signing with Washington, Haynesworth posted POA win totals of 32.3 percent (2007) and 23.8 percent (2008). Those totals are the baseline against which Haynesworth's 2009 run-stuffing performance should be gauged.
Let's check out his POA numbers from last season. He had eighty-one POA attempts and twenty-seven POA wins. That equates to a 33.3 percent POA win rate, or a total that was actually higher than both his 2007 and 2008 figures.
Haynesworth also met expectations in the area of contact splash plays. A contact splash play is defined as when a defender does something to physically impact a passing play, such as getting a sack, tipping a pass or hitting the quarterback while he is throwing the ball. He notched 20.5 of these over the course of 27 games in 2007-2008, or an average of about three-quarters of a contact splash play per game. In 2009 Haynesworth notched nine of these plays in twelve games, a total that equals the aforementioned three-quarters per game mark.
Those figures beg the question of why Washington is reportedly trying to trade him, but the unhappiness isn't just in the Redskins' front office. Haynesworth himself did not attend the team's offseason OTAs in part due to his being miffed about the team's switching him from playing a 4-3 under tackle position to a 3-4 nose tackle spot.
The thought of being on the receiving end of more double-team blocks might seem like a reasonable reason for Haynesworth to be upset, but a closer look at the numbers once again shows the facts don't back the emotion.
The statistical evidence for this comes from an analysis I did on the volume of double-team blocks some of the top-level 3-4 nose tackles -- Casey Hampton, Vince Wilfork and Kris Jenkins -- saw in 2009. Hampton saw two blockers 56.4 percent of the time, Wilfork 50.5 percent and Jenkins 51.4 percent.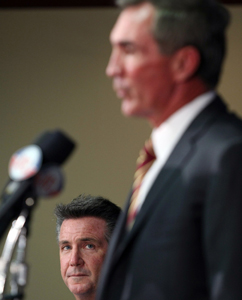 Getty ImagesRedskins GM Bruce Allen (sitting) and Mike Shanahan have some decisions to make on the big guy.
Now contrast those totals against Haynesworth's 40.5 percent double-team percentage -- that means he saw two or more blockers last year nearly as often as some of the top nose tackles in the league. To put this another way, if the 3-4 Haynesworth saw the same volume of POA runs as he did in a 4-3 front last year (81), and he saw a 10-15 percent increase in double-team percentage (which would put him at the same level as the elite nose tackles), it would mean an increase of 8-12 double-teams over the course of the entire season.
To be fair, Haynesworth did play in only 12 games last year, but even if four extra games are factored in, it would still mean that -- at worst -- he would see about one extra double-team per game. That simply doesn't seem to be enough of a reason for Haynesworth to skip the OTAs.
Add it all up and it means if anyone is likely to end up being happy in this situation, it might be the Detroit Lions, Titans or Cincinnati Bengals, as those are the teams that our Rumor Central group has as possible trade destinations for Haynesworth.