I really enjoy the draft lab series on ESPN insider.  It adds a another perspective I find very valuable.  I know alot of people here on HH hate Metrics and Advanced stats but I find some of them helpful.  For instance I think alot of the stuff they use for safety play is really ambiguous but for line play I think it is really helpful.  For line play it is basically watching every play and seeing who won a 1on 1 blocking matchup or how often they allowed a pass to be tipped or had a penalty, got beat forcing a QB to hurry a throw....etc.  The whole premise of the series is he has found certain metrics translate into the NFL consistently.  For instance for DT he has found, surprise surprise, that DT's who come off the field alot in college come off the field alot in the NFL with Big AL posting similar snap percentages in college and the NFL.
  I'm not trying to say this is the definitive word, just offer a different look.  People asked me to post this so I will post all the draft labs that involve players we might actually be taking a look at for the non-Insiders.  Take the jump for his Trent Williams summary.

In reviewing Oklahoma Sooners offensive tackle Trent Williams, I can't help but think of Gosder Cherilus. Cherilus is the progenitor of this series; after seeing his subpar collegiate metrics accurately translate into subpar professional metrics, I decided to start reviewing more NFL draft prospects this way.
Williams is much like Cherilus in that his collegiate metrics leave a lot to be desired.
His first and most important metric weakness is pass blocking. Left tackles get monster contracts and highly publicized motion pictures ("The Blind Side," about Michael Oher, opens Friday) because of their ability to keep pass-rushers from impacting the game via splash plays (e.g., sacks, offensive holding penalties, tipped passes, etc.).
A review I did in Scientific Football 2009 shows the best professional pass-blockers allow four or fewer splash plays in a season. It tiers down from there, with four to six being above average, six to 10 being below average and more than 10 ranking at or near the bottom of the league.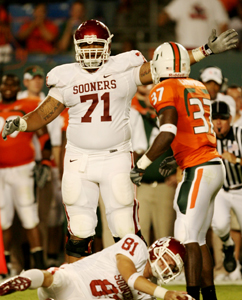 Getty ImagesTrent Williams might not be signaling for a lot of first downs on Sundays.
The central premise of the Draft Lab series is that the top-level pro prospects should be able to post metrics against collegiate competition that are above average or better than high-end NFL players at the same position. In the five-game series I broke down on Williams (at Miami, versus Texas, at Kansas, versus Kansas State, at Nebraska), he gave up four splash plays. There were two sack plays and one offensive holding play, so three of the four splash plays were direct impacts and not simply judgement calls.
As bad as four splash plays in five games is, Williams was lucky that total wasn't higher. He was beaten quite badly on an inside spin move in the Nebraska game that was very nearly a hurry or sack, but a quick reaction by OU quarterback Landry Jones saved Williams from splash play No. 5.
That wasn't the only time Williams struggled with an inside pass-rush move. He was pushed completely off his feet with an inside shoulder club move in both the Kansas State and Nebraska games. Miami also ran 10 inside moves against Williams, which is such a high total that one has to figure the Hurricanes saw a similar inside pass-blocking weakness.
Those woes would be enough on their own to consider Williams overhyped, but his run blocking is actually worse than his pass blocking. Williams blocked at the point of attack on a running play 41 times and won the battle 33 times. That equates to an 80.5 percent POA win rate. To put that in perspective, an 80.5 percent POA rate in 2008 would have ranked 28th among NFL left tackles.
Williams' POA win rates are worse than that if the 10 plays on which he had double-team blocking help are removed. He had zero POA losses on those plays, so his POA win rate on one-on-one blocks was 74.2 percent.
Williams also has issues with penalties. There was the aforementioned offensive holding penalty, two false starts, a personal foul/leg whip penalty and a personal foul/late hit.
The late hit might show an additional weakness. It came not long after Nebraska defensive lineman Barry Turner beat Williams on a POA run block. Williams beat Turner on a run block a few plays later and wouldn't stop blocking him until well after the play was over. His extra pushing eventually led to the penalty, and it looked to my scouting eye like he was mad about having been beaten and was trying to send a message to Turner.
That could be a strength in that if a coach can find a way to tap into it, it might be used to his team's advantage. The problem is, though, NFL defenders know when someone reacts poorly to having his buttons pushed, and if they sense that weakness in Williams, he'll have someone trying to goad him in every game he plays.
The Football Scientist lab result: Had I not known before watching video of Williams that he was considered a first-round prospect in many circles, it wouldn't have occurred to me to even consider ranking him that high. He might go in the first round because he is a left tackle, but the metrics say he will be a mediocre pro player, and that stamps him with the TFS overhyped label.